1. MoU with Arjuna Naturals Pvt Ltd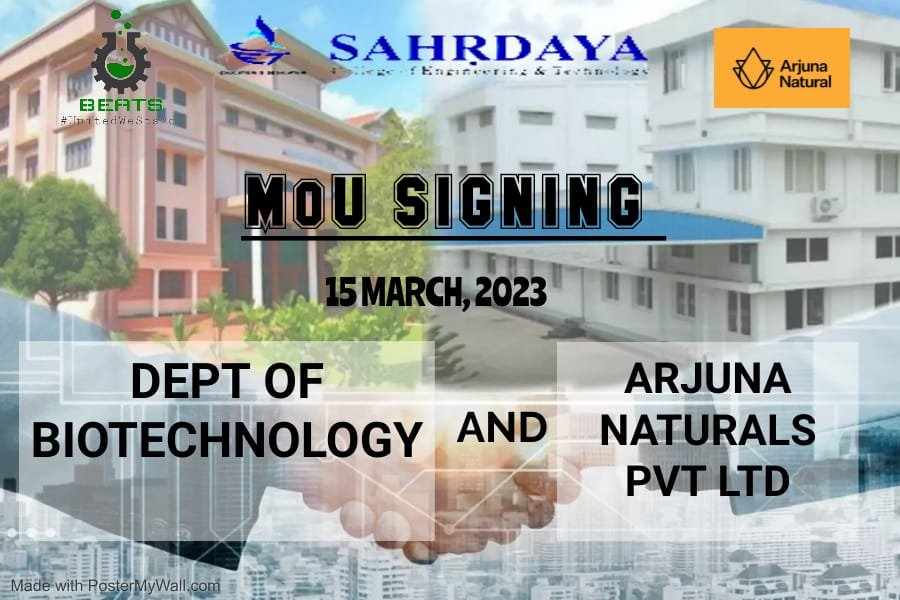 Department of Biotechnology proudly takes its next step towards establishing industry academia collaboration. On 15 March 2023 MoU was signed with Arjuna Natural Pvt Ltd. It is India's leading manufacturer and exporter of botanical extracts for pharmaceuticals and nutraceuticals. As a CSR initiative they have also sponsored a smart classroom for the department which was inaugurated on the same day.
2. MoU with CARe KERALAM Ltd
On 15 March 2023 the Department of Biotechnology signed MoU with CARe KERALAM Ltd  (Confederation for Ayurvedic Renaissance-Keralam Limited). It provides facilities for the standardization of Ayurvedic medicines. The company has facilities including raw material centre, clinical trials, analytical laboratory, production centre etc.
3. MoU with Zaara Biotech
MoU with Zaara Biotech, Kerala aims at providing internships for the students belonging to Sahrdaya institution which would involve providing the students the best possible opportunity for sound practical exposure to the technological innovations in relevant areas of algal culturing, photobioreactor designing, etc.
4. MoU with Jubilee Mission Medical College and Research Institute
This MoU is to formalize joint programme activities that will help to establish a mutually beneficial relationship built on academic, scientific and technological cooperation which include Faculty exchange, research, Innovation, consultancy, Entrepreneurship Development, promotion of healthcare quality standards, internship ,training programs for stakeholders and creation of a Centre of Excellence in healthcare technological advances for continued industry- institute interface and interaction.
5. MoU with Agappe Diagnostics Ltd.
This MoU for Collaboration has the primary objective of establishing a Training Center at Sahrdaya to provide training to the students on Agappe products and services and certain soft skills. The primary focus will be to provide training, project guidance, internships and limited placement support at free of charge.